ALUMINIUM INDUSTRIES SDN BHD
TECHNICAL EXPERTISE AND ASSISTANCE
Aluminium Industries Sdn. Bhd. being part of the Comcraft Group, benefits greatly from the Group's support, particularly in technical expertise.

Since the company's inception in 1985, the Group has consistently provided the know-how and the expertise of the key personnel with vast experience in casting and rolling technology.

In addition, since 1992 Aluminium industries Sdn. Bhd. has also made a technical advisory agreement with Kobe Steels Ltd., the number one producer of aluminium rolled products in Japan. Under this continuing agreement, Kobe Steel provides assistance in rolling technology as well as for specialised products of the company, through their senior technical personnel stationed at AISB since then.
UNWAVERING QUALITY & ISO CERTIFICATION
High performance equipment, latest techniques and stringent systematic quality control procedures, which form part and parcel of our plant's total commitment to customer satisfaction guarantee the quality of the final products.

Computerised Spectrometer & Tensile Testing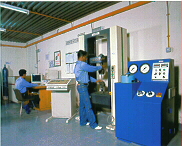 Manned by qualified personnel and with machinery such as computerised spectrometer, optical microscope, tele-gas meter, Ericsson cupping tester, bursting strength tester, viscometer, fractional distillater and

computerised tensile tester, we deliver products of impeccable quality. Our continued dedication to quality, improvement to process control and systems have earned us the coveted ISO 9002 certification in 1996.